World Tai Chi and Qigong Day is an annual event held on the last Saturday of April each year. Since 1999, millions of Tai Chi and Qigong practitioners from around 80 countries joined this global movement to promote the health benefits of these ancient arts.
Due to its geographical position, Australia is one of the first countries the event starts with. This year, it fell on 28 April and was supported by many groups from all over the country.
From 2014 (see the journal spread below), The Wushu Herald compiles reports from various clubs, organisations and individual participants. We encourage all organisers to announce their free events and share their experiences with the community.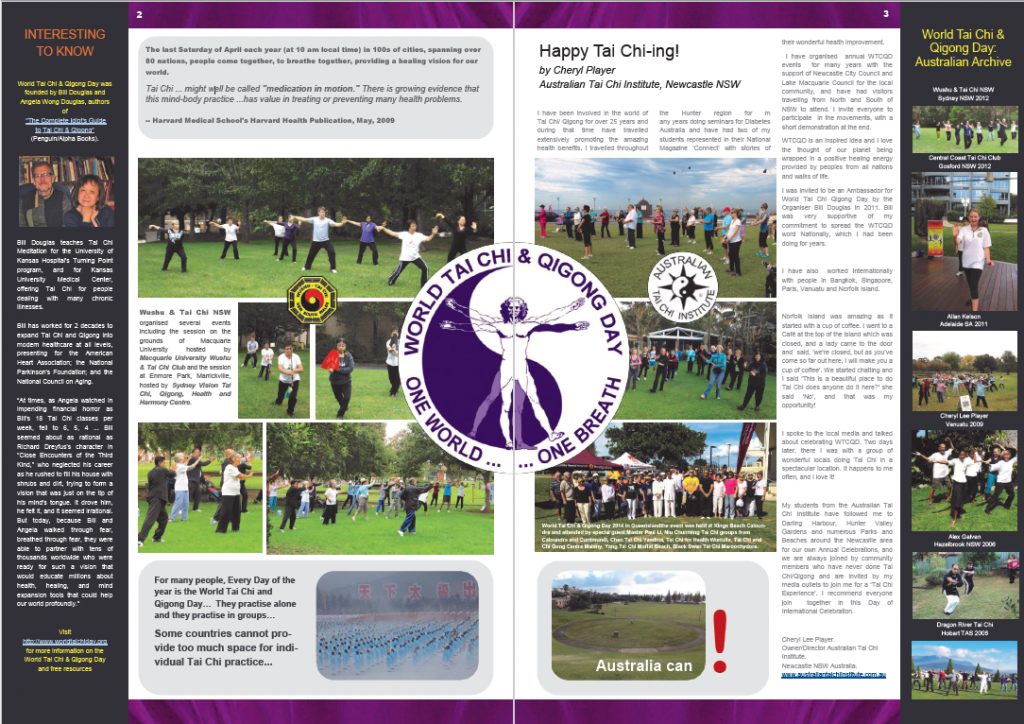 2018
In New South Wales:
 Newcastle
Amanda Heidke from The Tai Chi Centre" wrote: "After spending a few days watching the rain fall and a weather forecast that did nothing to inspire confidence, the clouds dispersed and we were greeted with a spectacular autumn day for World Tai Chi Qigong Day celebrations.
Our morning was spent in a picture postcard scene overlooking Newcastle harbour. The sky was perfect blue, the air crisp and clean and the energy was palpable.
From complete novice to student and instructor regardless of experience, school or style at precisely 10.00am dozens of participants joined together to explore, share and breath the magic.
World Tai Chi & Qigong Day is our day to offer thanks and celebrate everything these ancient Chinese art forms give us. To be connected to self, each other and the universe is the 'Supreme Ultimate'."
The event was announced in The Newcastle Herald ahead of WTCQD: https://www.theherald.com.au/story/5343147/tai-chi-sends-wave-of-healing-around-world/?cs=6158
 Sydney
At least three separate events were held in various areas of Sydney. The day's weather was direct opposite to Newcastle and certainly not the best for any outdoor activities but nothing could stop genuine Tai Chi enthusiasts!
Paul Cheah from The Eastwood Tai Chi Group said:
"The Eastwood Tai Chi Group held the event at Darvall park, Denistone. The weather was uncooperative as it rained most of the time. Around 45 participants turned up but had to stay under shelter wondering if the event had to be cancelled.
Fortunately, at around around 9.30 am, it cleared up and we quickly set up our banner (whose words were cut from paper). The event started with qigong exercises and then our Sifu Zhang Zinkai led the group through the competition forms Tai Chi.
Our main objective was to make a 3 minute video to put up on the World Tai Chi Qigong website so that Eastwood would be among all the places in the world celebrating the event! We just managed to do it before the skies opened up again!
Then we retired to the shelters to share some hot drinks and snacks."
A few practitioners – members of the Wushu & Tai Chi NSW decided to get together in Boronia Park, Epping. Because of rain, the session started under the shelter on the playground. Later it moved to the open. The Wushu Herald was told that the group did traditional Yang Tai Chi, Duan Wei form and Health Qigong routines. The exercises were followed by a small picnic which later smoothly relocated to a local restaurant continuing the celebration and planning for the next adventures.
Also in Sydney, Tai Chi Association of Australia reported on their website: "2018 World Taichi & Qigong Day (WTCQD) Saturday 28 April started with rain! Scheduled for Victoria Park, we took refuge within the Sydney University grounds, and it turned out to be quite nice and cosy as we were in a little amphitheatre."
Alex Galvan from Sydney Vision Tai Chi Qigong Health Centre, despite the pouring rain, led his group in Qigong and Tai Chi practice (and has a video to prove it!)
In Victoria:
The World Tai Chi & Qigong Day celebrations in Victoria were expected to be organised by many groups.
Bendigo
Raymond Lee organised a nice event and provided pictures (produced by Thomas Merrett Photography). 
Numurkah
Christine Milton from Numurkah sent their group photo too.
East Gippsland
Jill Thio from East Gippsland said: "World Tai Chi & Qigong Day 2018 was very successful in East Gippsland. Our event was held in the picturesque  little town of Bruthen, which is located about 26 km from Bairnsdale. We hold WTCQD events every year but this year, with about 50 participants, we set a new record. Tai Chi enthusiasts from Bairnsdale, Metung, Paynesville, Eagle Point, and of course Bruthen, plus many other East Gippsland locations joined in. Our guest instructor, Robyn Hill, taught us some new animal qigong movements which was great fun and enjoyed by all. Great coffee and cake  at the Bull Ant Brewery overlooking the Tambo River afterwards.  A wonderful way to spend an autumn morning."
In Queensland:
The World Tai Chi & Qigong Day in Queensland was celebrated in at least three locations:
Mackay
Leanne Simpson, Fitness & Wellness Educator from Mackay writes:
"Today we added to history's pages as we joined the wave around the world sharing World Tai Chi & Qigong Day 2018.
Promoting the mindful movement of tai chi for well-being. Thank you to our volunteers and Mackay City Centre for making this morning so successful and calming."
(see video: https://www.balanceminder.com.au/mackay-joins-the-wave-of-one-world-one-breath/)
Caloundra
A couple of pictures were sent to us by Stephen Ramsdale who teaches Tai Chi in Caloundra.
 Hervey Bay
Margaret Richters from Hervey Bay shared with Wushu Herald the details of the event:
"April 28th 2018 The Australian Academy of Tai Chi Hervey Bay and Bundaberg branches and Tai Chi for Health Hervey Bay joined together to celebrate World Tai Chi Day 2018. This was celebrated in the Hervey Bay Botanical Gardens Chinese Pagoda area with 40 people in total.
Our day commenced at 10am with all participants doing 2 Shibashi exercises together. We then following Tai Chi for Health in doing the Bejing 24 form and then completed Levels 1 to 3 of the Khor Tai Chi movement set. A short morning tea break, to get to know each other and sharing our Tai Chi stories. We then performed Lohan together before both groups demonstrating their Sword form and Fan sets. The morning finished with Lotus exercise.
A great morning of fellowship and shared Tai Chi enjoyment."
The event was reported in the local newspaper, Fraser Coast Chronicle: https://www.frasercoastchronicle.com.au/news/celebrating-world-tai-chi-day-with-public-display/3401955/
In Tasmania:
Catherine Fernon from Tasmania told Wushu Herald: "Approximately fifty Tai Chi and Qigong teachers and students from North West Tasmania came together to celebrate World Tai Chi and Qigong Day at Gutteridge Gardens in Wynyard. Jay McGough who has recently moved to Tasmania from Victoria led the session as participants learnt and then practised Wudang Longevity Qigong. It was the first time we have participated in World Tai Chi and Qigong Day and everyone was very moved by the whole world wide event."
In Western Australia:
In anticipation of this global event, the group of Tai Chi practitioners from Broome, WA, addressed all supporters:
"We are certainly going to be the first to start off World Tai Chi day 7am Town Beach. It will be 10am in some pacific islands where a few intrepid practitioners will start with us!
Something very special will occur starting Saturday in Oceania and Asia … from Jerusalem, Israel to Tehran, Iran … from Moscow, Russia to Washington D.C. … a global wave of goodwill will expand in the form of mass Tai Chi & Qigong events … a global Tai Chi and Qigong family will "come together" and provide an example to the world."
This report is by no means the comprehensive coverage of all World Tai Chi & Qigong events happened in Australia on 28 April 2018. If you didn't find your event mentioned in this article, please let us know and we will include you as well! All pictures and details are welcome.
Remember: Pictures! Or it never happened!